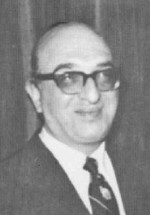 Broken Wand Bobby Bernard

Message from Mandy Davis MIMC
It is with sorrow that I have to inform you that the British legend that is Bobby Bernard has passed away.
Bobby has been out of The Magic Circle, as a Monday Nighter, for a while but he was well known and respected in his time; never missed a convention (even taking his own personal paramedic on one occasion!)
He has been missed, as a guiding light, from the clubroom for a long time; he had a hard time once he left his original home. Now he is at peace.
He will be remembered.
All the best
Mandy Davis MIMC - Diva of Deception
Professional Magician/MC
http://www.mandydavis.co.uk